Looe tidal flood work 'would cost more than £10m'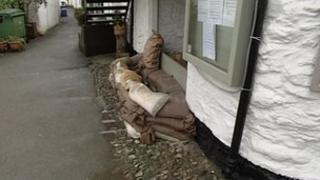 Work to try to halt tidal flooding in a Cornish town would cost more than £10m, the Environment Agency says.
Looe is one of the most frequently inundated towns in the county, with up to 40 properties affected by floods.
Agency coastal engineer Nick Ely said staff could not get full government funding for such work, but they were also looking at "a range of solutions" to lessen the impact of flooding.
Meanwhile, there are currently 12 flood alerts in Cornwall.
'Very frequent' flooding
Looe's quay and the town's Fore Street have been affected by flooding again over the past few days.
Mr Ely acknowledged that, comparatively, Looe flooded "very, very frequently; on average twice a year".
He said: "It's one of our highest-risk communities. But, because it doesn't affect a huge number of homes, it's difficult to draw down significant government funding to deal with it.
"It would cost upwards of £10m and at the moment the system for allocating funding means we could only get half of that from the government, unfortunately."
He added funding was just part of what the agency needed to consider.
"It could be five to 10 years before we could come up with a big, comprehensive solution for this," he said.
"We're looking at a range of solutions, trying to satisfy the needs of householders, businesses and fishermen.
"We can look at trying to stop water coming up over sea walls, sealing underneath the quay and trying to dampen the effects of waves."
Heavy rain has been forecast across the county for some of Monday.