Alpaca TB campaigner Dianne Summers recovering from TB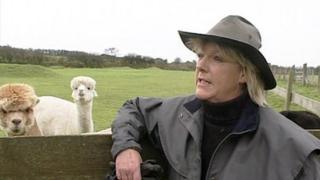 A woman thought to have contracted tuberculosis (TB) from alpacas says she has been able to come off medication 18 months after becoming ill.
Dianne Summers, from Redruth, Cornwall, who campaigns for compulsory bovine TB testing in alpacas, said she believed she was infected by her own animals.
She said she felt on the road to recovery after having to take a "very serious cocktail of drugs".
And she said she would continue her campaign.
Testing requirements
Ms Summers had eight of her animals put down in 2008-09 when they tested positive for bovine TB.
There is a legal requirement to report the disease if present or suspected in a herd, but there is currently no legal requirement for animals to be regularly tested.
Bovine TB is believed to be primarily passed from one animal to another by breathing in bacteria.
Ms Summers has campaigned for compulsory testing for alpacas and later received an award from the British Alpaca Society (BAS).
Alpacas have little resistance to TB and can die within six months of catching it, the BAS said.
However, in some cases, it can take years to develop.
Ms Summers said: "The government is proposing voluntary testing, and I myself can't see how you can control disease on a voluntary basis."
The Department for Environment, Food and Rural Affairs said a voluntary arrangement would prevent animals catching or spreading the disease without placing unnecessary regulatory burdens on owners.
There are currently 1,500 alpaca owners of an estimated 35,000 animals registered with the British Alpaca Society.
The animals, which originally come from the high plains of Peru, Bolivia and Chile in South America, are normally bred for their wool.