Met office issues fresh weather warnings for Sunday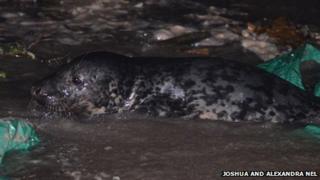 The Met Office has put out a yellow warning - meaning "be aware" - for more heavy rain on Saturday and Sunday.
The service claimed up to 30mm could fall in some places.
The Environment Agency has issued flood warnings for the upper and middle River Tamar and the River Fowey in anticipation of rain on Saturday night and Sunday high tides.
Flood alerts have been re-issued for the north and south Cornish coasts and several other rivers across the county.
The rivers Lynher and lower Tamar, plus Looe and Seaton, St Austell, Par, Helford and Fal could all be affected, the agency claimed.
Newquay arrest
A man was arrested for being drunk and disorderly after wading into the stormy seas off Newquay early on Saturday morning.
Police removed the man from the water shortly after 04:30 GMT and said his actions could have put lives at risk.
Sgt Regie Butler, of Devon and Cornwall Police, said the arrested man was originally spotted on Towan Beach at about 04:30 GMT and spoken to by officers.
He was seen to walk away but was found waist-high in the water a short time later in 6ft (1.8m) high waves.
Sgt Butler said coastguards and a lifeboat were put on standby but that the tide ebbed long enough for officers, including himself, to go in around knee deep and pull the man to safety.
The man was taken to hospital for a check-up and arrested for being drunk and disorderly.
Sgt Butler said: "Alcohol does appeared to have played a part in it.
"Another minute and he could have been washed out and the situation could have been tragic.
"Wave-dodging may look fun, but it's the life of yourself and your rescuers you are putting at risk.
"I was only knee deep in and I was struggling."
Elsewhere, about 65 properties were flooded on Friday night and Looe quay was again left underwater.
About 250 homes were left without power in the St Keverne area but have had supplies restored, engineers said.
A cafe at Fistral beach was shored up to stabilise it before it is demolished safely after its foundations were damaged in storms.
As well as Looe quay, the town's Fore Street has been affected by water again.
Cornwall councillor Edwina Hannaford said the situation was not as bad as Friday but added motorists were causing some problems.
She said: "People driving through Fore Street are creating a bit of wake, making some waves that have gone into shops."
Cornwall Council leader John Pollard said community support teams were out helping those affected by flooding.
At Seaton, a seal was washed into the beach cafe car park by huge waves on Friday.
Joshua and Alexandra Nel said: "We found the seal in the middle of the flooded cafe car park but luckily it managed to get to a safer location."
The RSPCA said it had had several reports of seals in trouble.