Anger over Cornwall Council 'pay your rent' letter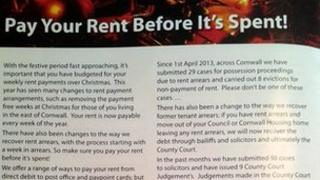 A letter sent to council housing tenants to "pay your rent before it's spent" has been branded "offensive".
The housing newsletter was sent out just before Christmas by Cornwall Council, warning tenants there had been eight evictions for non-payment of rent and not to become "one of those cases".
The council said it was to remind tenants to keep on top of payments.
A "Don't overindulge this Christmas - Pay your rent!" card was sent to London council tenants last month.
The card, showing a pound coin fizzing in a glass, was issued by Hammersmith and Fulham Council.
It said 46% of its tenants were in rent arrears, but tenants said it was a "disgusting".
Josiah Mortimer, from Truro, said Cornwall Council should apologise.
The 20-year-old York University student who is currently staying with his parents Dave and Alison in their council house during the holidays, said the tone of the letter was in "bad taste".
"It talks about the number of evictions and prosecutions and says being affected by welfare reforms - like the bedroom tax - is not an 'acceptable' reason for getting into debt," he said.
"It's hard to fathom how they think that.
"It's a horrible thing to get the day before Christmas - I think it's offensive and in incredibly bad taste.
"It's like a slap in the face and implies tenants can't handle their own money."
He said the council should apologise to its tenants.
Cornwall Council said on its website: "We know this can be a very expensive time for people and the article offered advice to anyone who was experiencing financial difficulties."
Money management
The council said it had the responsibility of tackling homelessness and had seen "first hand" the consequences of people not budgeting correctly and prioritising their debts.
"It was certainly not our intention to patronise our tenants in any way and we are sorry if some people have interpreted the article in this way," the council added.
However Mr Mortimer said the council's response was "totally inadequate and not an apology".
"That's not saying sorry for what they wrote, but sorry if their tenants got the wrong end of the stick," he said.
Liberal Democrat councillor Geoff Brown, cabinet member for housing, said he was sorry if anyone was offended by the newsletter, but the council was trying to help tenants by stressing the importance of people being "very, very careful and managing their money".
"Statistically it's proven that February is the most serious month of the year for people getting into financial problems, largely due to spending at Christmas and the bills coming in in January," he told BBC News.
Labour councillor Michael Bunney criticised the timing of the newsletter.
"Christmas is a time for family, community and compassion and with so many people in Cornwall struggling, the timing of the newsletter was terrible," he said.
"Lots of us need budgeting advice - that's important for all of us - but advice needs to be helpful and needs to go out months in advance of crisis times."