Isles of Scilly supply ship all clear to sail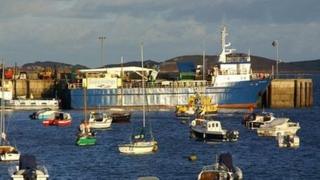 The Isles of Scilly supply ship that hit rocks on its way to St Mary's has been given the all clear to sail.
The Gry Maritha grounded while fully-laden on Crow Rock at 18:15 GMT on Monday night. No-one was hurt.
The alarm was raised by a crewman who called the RNLI and a full investigation has been launched.
The vessel, which sails from Penzance, Cornwall, provides the only method of bulk freight transport from the British mainland to the Isles of Scilly.
It also carries fuel to the islands.
The St Mary's harbour master inspected the vessel but found no visible damage.
The master of the vessel was breathalysed by police but the test was negative.