Flood-hit Ponsanooth shop to be closed for six months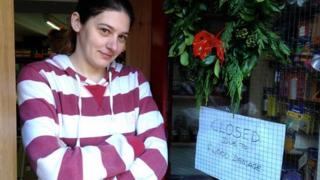 A village shop which flooded just before Christmas could be shut for six months, its owner has said.
Michelle Ferminger took over Ponsanooth Village Stores and Post Office, near Falmouth, three months ago and carried out a major refurbishment.
Floodwater flowed in on 23 December, damaging her home and business.
"My kitchen, bathroom and dining room has all been damaged," she said. "I am exhausted and overwhelmed as to what has happened."
Villagers have rallied to the aid of the shop, with the local pub selling basic supplies on its behalf.
Mrs Ferminger has also been offered some land to set up a temporary shop and is now appealing to local businesses to lend a portable building.
She said: "I found the whole front area of the shop had turned into a swimming pool.
"It had smashed through the front door of the shop and filled up all the way through the ground floor."
Judy Tucker, who has worked in the shop for 17 years, said the floods were devastating.
"The day of the flood had been the best day of takings for so long, so a few hours later for this to happen has been heart-breaking," she said.