Newquay Pathfinders elderly support project to expand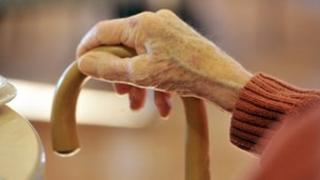 An award winning project that helps integrate services and support for elderly people is to be expanded.
The Newquay Pathfinders Project has helped about 130 people with complex needs in the Cornish town.
Newquay Pathfinders has brought the NHS, Cornwall Council and the voluntary sector together in an attempt to identify how people can be more independent and healthy.
Age UK plans to roll it out to the rest of the Cornwall and around the UK.
The scheme in Newquay has helped people with day-to-day tasks such as taking their dog out or shopping in groups.
It sees an Age UK staff member or trained volunteer work with the older person to draw up a care plan that suits their life and will help them maintain their health and wellbeing.
The Pathfinders project has also arranged coffee mornings to provide company for elderly people who live alone.
Tracey Roose, Chief Executive of Age UK Cornwall, said: "Across the 130 people we've supported we have seen a 30% reduction in hospital admissions from what you might have expected from that group of people. It's very cost effective."
Earlier in 2013 the scheme was awarded an Health Service Journal (HSJ) award, which recognises healthcare innovation and achievement within the UK.