Council tax summons issued to thousands in Cornwall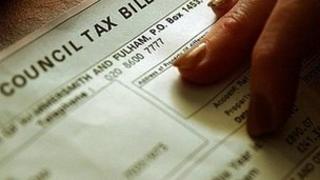 Nearly 4,000 of Cornwall's low-income households have been issued a court summons since they had to start contributing to council tax in April.
Of these, more than 3,600 have progressed to a liability order - a demand to pay the full amount.
About 26,000 people in the county, who previously had their council tax paid in full, now have to pay at least 25%.
Cornwall Council's finance portfolio holder Alex Folkes said the poorest residents are being offered help.
Under government welfare reforms, council tax benefit was devolved to local authorities - but with 10% less money.
Cornwall decided to plug the funding gap by asking working age people to pay a quarter of their bill.
'I'd rather eat'
A man from mid-Cornwall, who did not want to be named, said he has struggled to pay the £20 a week he now needs to find, resulting in a court summons.
Speaking to BBC Radio Cornwall as he left Truro Magistrates' Court he said: "You get a final notice and then a summons and you come here and sit down in a room with somebody who asks you how they can help, which is a bit bizarre.
"I work, and I work hard, but with all the increasing costs all the time, something has to give and I'd rather eat than pay the council tax."
The government has said welfare reform is vital to tackle the budget deficit.
It added the localisation of council tax support will help with this, whilst delivering savings of £470m a year of taxpayers' money.
'Will help'
Liberal Democrat Mr Folkes said Cornwall Council has a hardship fund for those struggling to pay their council tax.
"The last thing we want is for people to be dragged through the court system when in effect there is nothing that they can afford to pay," he said.
"If they tell us early, we will help them out and we will help them to fill in the form."
Within three months of the changes being introduced, some 6,000 people in Cornwall were already in arrears and 1,000 had been issued a court summons.
In November, the Labour Party said that 112 English councils had issued 156,000 court summonses since April to people paying more tax as a result of the changes.
That meant 450,000 individuals may have been taken to court across the whole of England in six months.