Council 'warned' of Calstock road cracks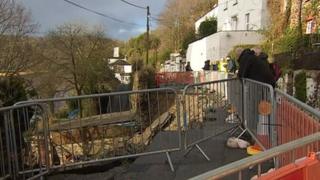 Cracks in a road that collapsed on Christmas Day after heavy rainfall were reported to the council months earlier.
At least 20 properties in Calstock have been left without road access after the landslip on Lower Kelly on 25 December.
Resident Nigel Rushbrook said the incident could have been avoided if the council had been more "proactive".
Cornwall Council confirmed it was contacted in June, but said at this stage it appeared the road had succumbed to extremely heavy rainfall.
Five properties immediately behind the landslip were evacuated and one of the homes has developed "fine cracks".
The damage has closed a 20m section of the road to local businesses and about 30 homes.
'Gap in wall'
Mr Rushbrook said cracks in the road were reported via the council website and so its eventual collapse "wasn't really a surprise".
"We'd already reported it, we had seen that developing, we had not seen anything done about it," he said.
"And of course it could have been fixed had they been a bit proactive about it, and actually shored it up before it collapsed."
Mr Rushbrook added: "When I heard it had collapsed, it was no surprise - we knew, we knew it was going to go."
In an email to BBC News, resident Denise Taylor said a "gap in the wall" was reported to the council "some weeks ago" along with concerns that it was getting bigger.
She said "nothing was done about it".
'Major landslip'
In a statement, the council said: "As with all council highway structures, the retaining wall at Lower Kelly Road is subject to maintenance inspections.
"We can confirm that we were contacted by a local resident about the road in June this year.
"We will, of course, be looking into the causes of the landslip. However at this stage it would appear the road succumbed to the extreme heavy rainfall and saturated ground."
Councillor Bert Biscoe, highways spokesman, added: "We would inspect roads on a regular basis but the nature of this has come as a shock.
"As far as this is concerned, the slippage, this is something that is new to us and we are dealing with this problem now, that is our priority."
A structural engineer has declared the area safe but residents say they fear there has been further movement since the collapse.
Council staff and structural engineers were on site on Monday to carry out a full inspection.