Fears for Calstock homes after Christmas road collapse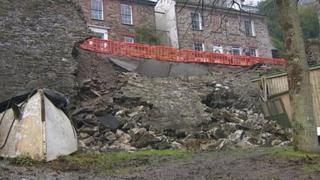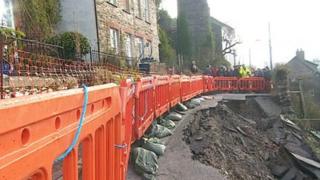 Residents of a Cornish village where a section of road collapsed following heavy rain are worried about the future of their homes.
At least 20 properties in Calstock are without road access after the landslip on Lower Kelly on 25 December.
One of the properties has developed "fine cracks" following the collapse, residents have told BBC News.
Cornwall Council said it would provide hire cars for people whose vehicles are stuck following the slip.
Resident Lyn Edwards said: "Clearly as residents we have some concern about our safety.
"I can't sleep in my bed at night at the moment. We have requested Cornwall Council to conduct a full structural survey on five properties to reassure us as it seems the slippage is getting closer and closer to our front walls."
She added five properties were immediately behind the landslip and residents were "very, very nervous".
'Bags packed'
Resident Nigel Rushbrook said: "The worst case is our houses will go, the houses above will go and the road above that."
"We are sleeping slightly fitfully... there are noises in the night which we think, 'is that the house?'
"We have all important stuff and bags packed just in cases."
Dorothy Kirk, Cornwall councillor for Gunnislake and Calstock, said a structural engineer "assessed the stability of the terrain" on 26 December and "assessed the safety of the houses and allowed the residents back in".
Ms Kirk said Cornwall Council met residents in Calstock to "discuss their needs" after part of the village was cut off.
She said: "Cornwall Council are willing to pay for hire cars so people who can't get their cars out can get to work and get around.
"Emergency services have reassured us they have means of delivering supplies."
Ms Kirk added that highway engineers would be reassessing the road on Monday.