Callington's St Theresa's Nursing Home 'not respecting dignity'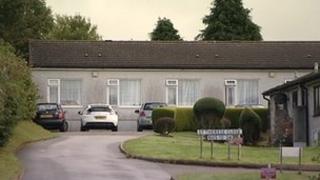 A nursing home in Cornwall has not been respecting the privacy, dignity and independence of its residents, a health watchdog report says.
St Theresa's Nursing Home in Callington was also told by the Care Quality Commission (CQC) it needed to do more to support its staff.
The home has more than 40 residents, some of whom have dementia.
Previously, the home's owner said it would work to resolve issues, but has not commented directly on the report.
'No staff appraisals'
The CQC's report was due to be published in January.
However, local councillor Andrew Long called for its "urgent publication" earlier this month after seeing a copy of an anonymous complaint to the CQC.
In its newly published report, the CQC said privacy and dignity included "doors to communal toilet facilities were not always closed when in use."
It added staff "were not receiving formal supervision sessions and annual appraisals".
However, the report also said the home was meeting recommended standards in cleanliness and infection, as well as staff numbers.
The CQC has asked home owner the Morleigh Group to set out what action it was to take to address its concerns.
It added it generally expected to have such actions put in place within three months and that it would be following that up to make sure the plans were in place.
After previously acknowledging the initial anonymous complaint, the Morleigh Group said: "If there are any compliance issues arising in any of our nursing homes, we will work in partnership with the CQC and Cornwall Council to resolve them."