Crew rescued from sinking boat off Isles of Scilly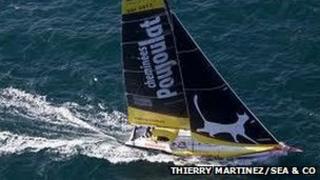 Two sailors have been rescued from a sinking racing yacht 170 miles south west of the Isles of Scilly.
They were on board the Cheminees Poujoulat, which was seriously damaged in 30ft (9.1m) waves and storm force 10 winds, according to the coastguard.
Several attempts were made overnight to remove the men, whose life raft had been damaged beyond use.
Conditions were too rough for a rescue helicopter to winch them and they were picked up by a merchant ship.
The sailors were about to climb into a life raft when the yacht broke in two - but they were able to stay aboard.
The men are believed to be French and Swiss.