Repairs to mine-damaged homes in Camborne continue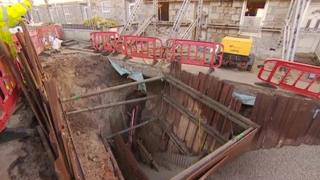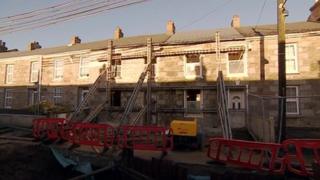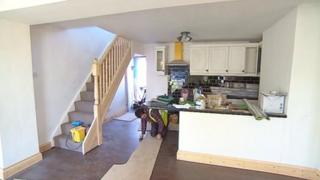 A £1m project to secure Cornish houses at risk of collapsing into old mine shafts is continuing.
Work on the properties in Camborne was only due to take a few months but engineering problems have delayed it.
Many houses were built on top of a 300-year-old mining tunnel system, or adit, which became blocked, forcing water up into some houses.
Cornwall Council, which is spending £1.6m on the scheme, said it should be finished by next spring.
Some of the Troon houses are held up by huge steel girders and steel piles which extend 14m (46ft) into the ground.
'Difficult conditions'
David Owens, the assistant head of service for environment and waste at Cornwall Council, said: "If you open a hole in the ground in Cornwall you never know what you might find.
"The project has taken longer as we've been dealing with extremely difficult ground conditions."
Ian Johnston, Cormacs' site manager, said: "We've got ex-Crofty and Wheal Jane miners. Their experience has been immense."
Two homes in New Street in the village have been underpinned and a new tunnel will be built to replace the collapsed adit.
Eric Parsons, who lives in the street, said: "We can do nothing about it. It's up to the experts.
"They know what they're doing and they can put it right."
Some residents are about to move back into their homes in time for Christmas.
The project is expected to be completed in early 2014.