Coyte Farm development plan rejected by town councillors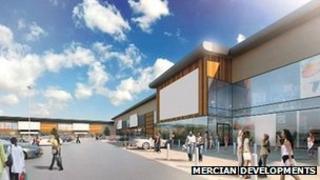 Plans for a multimillion-pound out of town shopping centre on the edge of St Austell have suffered another blow.
Town councillors narrowly voted against the Coyte Farm Development by nine votes to eight, with two abstentions, on Monday evening.
Developers Mercian Developments Ltd and Metric Properties have Marks & Spencer and Sainsbury's as potential tenants.
The application will go before Cornwall Council's strategic planning committee on 16 January for a decision.
Peter Swain, who lives near the proposed development, said: "Both this meeting and the previous one I attended, the room had been largely against the proposal.
"I am pleased with the result but I am disappointed it was so close. The development is the wrong side of town."
Jessica Milne, another resident, said: "I live in the town and want the town to thrive as well. I think St Austell needs to reinvent itself as a town with its own identity."
Developers have promised to support the town centre with subsidised parking.
The Coyte Farm proposals also include a Next store, along with a petrol station, golf academy and improvements to the nearby St Mewan School.
Simon Hoare, from Mercian Developments and Metric Properties, said: "We've heard mixed views throughout the process. What St Austell doesn't need is more small shops. It needs the likes of Marks and Spencer and others in.
"If it's serious about competing with Truro that's the sort of strong retail magnet we need to create."
As well as subsidised town centre car parking, Mr Hoare said they would increase the number of buses from the development to the town centre.