Cornwall 'high risk' drinking less than in England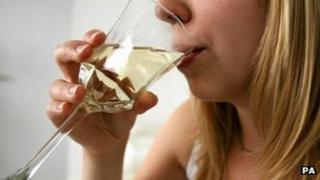 The number of "high-risk" alcohol drinkers in Cornwall is well below the figure for England, Wales and Scotland, according to statistics.
About 100,000 adults drink above the recommended amount, nearly 20% of the total population of about 532,000.
In England, Wales and Scotland last year 30% of adults drank more than the recommended amount.
About 5,000, less than 1% of Cornwall people, are dependent drinkers, compared with about 3% in the UK.
The Cornwall Council figures were collated after local authorities took over public health responsibilities from the NHS last April.
Jez Bayes, Cornwall alcohol strategy lead, said alcoholism is "tragic for each household it affects".
Mr Bayes said: "Alcohol issues can affect finances, work, family life. It is tragic for each household it affects. It's very important people have good access to all services at all points."
Mr Bayes said there was also increasing evidence older people were drinking more because "alcohol is so much more available."
Elaine Hindal, chief executive of alcohol education charity Drinkaware said: "People who drink frequently - every day or on most days of the week are just as likely as those who don't drink as often to think they are in good health.
"However, the medical evidence is clear; regularly drinking above the lower-risk alcohol guidelines increases the chances of developing health problems such as liver disease and cancer."