'Rare' Lizard juniper plant reintroduction hope by conservationists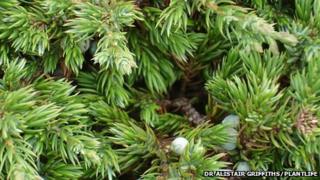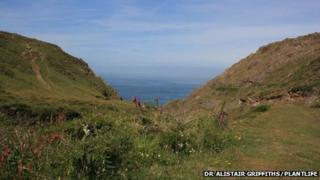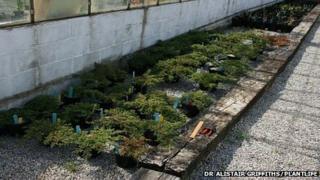 Conservationists hope to save an "extremely rare" plant which is only found in the wild in the UK in one valley in Cornwall.
The team from the Eden Project and Natural England are growing the Lizard juniper at a nursery and hope to plant them in the wild.
Only 13 junipers remain in the Gew Graze Valley, on the Lizard Peninsula, a spokesman from Natural England said.
He added that reintroducing them to the area could begin in 2014.
John Martin, from Natural England, said the people of Cornwall should be "very proud of the Lizard's botanical importance". It has a number of rare species.
Cuttings from all known wild juniper plants on the Lizard were taken in 2010 to the Eden Project in Cornwall.
Fruit was collected from five wild female plants two years later with the aim to grow plants from the seeds.
Both methods are now being used to help grow junipers.
"The 13 individuals live close together [in the wild] and we want to see if former sites where they used to be found might be suitable for the reintroduction," Mr Martin said.
"It will help protect them if something bad happens to those in the Gew Graze Valley."
'Protect our habitats'
Dr Tim Pettitt, from the Eden Project, said seedlings had been germinated from the collected seeds, but they had to be "robust enough" before being reintroduced.
"It's part of our native flora and we need to do more to understand why there has been such a strong decline," he said.
"The species was once abundant and we should endeavour to keep it."
The plant is a subspecies of the juniper, an evergreen conifer.
Mr Martin said the Lizard was the only place in the UK where it was found.
But he admitted there was some divide in the scientific community as to whether a type of juniper found in southern Europe was the same subspecies.
He said: "They live in different habitats, there would be no gene flow between the two populations, and they do differ, but at this stage it's unclear whether it is the same subspecies or not."
Dr Alistair Griffiths, who is one of the founders of the project, said: "It's a very important project, not just for conserving one population of plants, but also understanding the scientific methods of how best to protect our habitats and plants."
He added the research methods used for the Lizard juniper, as a case study, could help towards safeguarding other species.