Chy Lowen Cornish housing charity's referrals 'double'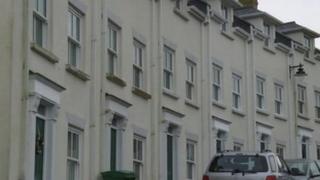 A Cornish housing charity has said it is being inundated with people asking for help as referrals have doubled.
Chy Lowen, run by the housing social enterprise Chapter 1, helps private sector tenants who are struggling with credit checks and deposits.
The charity, which is based in St Austell, pays the rent directly to private sector landlords to avoid the risk of rent arrears.
Chy Lowen said it was now getting about 30 to 40 new referrals every week.
'Huge barriers'
Charity spokeswoman Debbie Applegate said the number of people wanting help had doubled in the past year.
The current economic climate and recent welfare reforms were possible contributing factors, she said.
"There are a lot of good tenants out there who can't find housing in the private sector," she said.
"Often with the private sector there are huge barriers, such as big deposits, rent in advance and credit checks.
"All these things prevent them from going down the estate agent route, however they do make very good tenants."
The Chy Lowen Private Sector Leasing scheme was developed in April 2009.
According to the charity's website it has a growing portfolio of more than 160 properties of all sizes on its scheme.
The charity said it had provided sustainable homes for more than 200 families and single people in the area.
There are about 28,000 people on Cornwall Council's housing register.