Appeal to support Cornwall's Big Issue sellers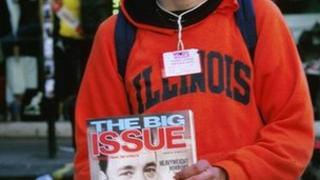 A minister in Cornwall has appealed to people to support sellers of the Big Issue.
The magazine charity helps homeless people earn a living for themselves.
But the Reverend Mike Firbank, from Camborne Parish Church, said vendors in Truro were experiencing their worst sales season in recent years.
He said although people were "feeling the pressure", paying £3 could make a real difference to someone's life.
'No engagement'
Mr Firbank said one seller told him people were walking past him like he was invisible.
"There was no engagement from any of the public whatsoever and we'd bought the only copy he'd sold that day," he said.
"People who've been homeless or had problems with drugs or alcohol have had to work really hard to get a job with the Big Issue.
"They sell the magazine and get to keep the profits in order to stay in accommodation and stay off the streets.
"These guys have started again - they're clean, they've got a job, but that job is reliant on people spending £3 on what is a quality magazine.
"I understand that people are feeling the pressure... but here's a challenge for Cornwall - let's buy the Big Issue out, so that before we get to Christmas Day no vendor in Cornwall has a single copy of the Big Issue to sell."
No-one from the Big Issue Foundation was available to comment.