First Bus ticket prices to increase in Cornwall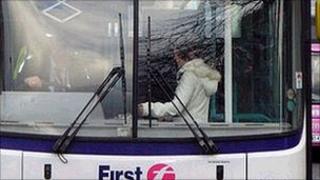 Bus passengers in Cornwall have warned they will be hit hard next year when some ticket prices more than double.
First Bus said it was bringing in "a simper set of fares" from 5 January, with the cheapest ticket going from 90p to £2. But it added some longer journeys will cost less.
The company said ticket prices had not been reviewed for some years and that running costs have increased.
Critics labelled some of the increases as "a bit steep".
First Bus - which along with Western Greyhound runs the bulk of bus services in Cornwall - has faced a significant loss of income in recent years.
It previously said this was down to the increased use of concessionary fares, an increase in free pass use and Cornwall Council reducing subsidies.
Wendy Kirkpatrick, from St Day, who is on the First Bus passenger forum, said: "I think it's going to hit an awful lot of people, especially those that commute to work and families, with the family ticket increase.
"I know everything's going up in price, but I think that this is a little bit steep."
The move was also criticised by the Cornwall Rural Community Council.
Council chief executive Peter Jefferson said: "Clearly it's going put more pressure more people in rural communities, particularly those that have to travel to work.
"It's getting to the point where, for some, it will more cost-effective to use another form of transport."
Although fares currently between 90p and £4 are set to increase, tickets between £4.20 and £6.95 will cost a flat rate of £5.
Return fares will become one-and-a-half times the price of a single and no more passes lasting longer than a month are to be issued.
First was not available for comment, but said on its website there "are a number of reasons why we need to increase the fares we charge".
"All of them are to do with covering the increased costs of running buses," it said.