Bodmin Hospital nurse Gideon Bryant guilty of misconduct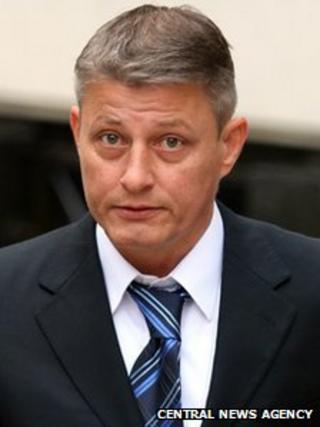 A 48-year-old psychiatric staff nurse who had a relationship with a teenager has been found guilty of misconduct at a Nursing and Midwifery Council (NMC) hearing.
Gideon Bryant met the 19-year-old when she was under his care at Bodmin Hospital in Cornwall in January 2011.
However, claims a sexual relationship - formed after she was discharged - was inappropriate were not proved.
The NMC will decide in January if Mr Bryant should be struck off.
'Became fixated'
The "vulnerable" teenager - known as Client A - was admitted to the hospital's psychiatric unit after being sectioned under the Mental Health Act.
The three-day NMC hearing in London was told she became "fixated" on the father of two.
She was transferred from Bodmin Hospital's Harvest Ward to a mental health facility in Devon in February 2011 and discharged fully in July.
Mr Bryant said after she was discharged he "bumped into" her in bars in Plymouth.
Mr Bryant, who admitted to a "loving and sexual relationship", moved the teenager into his house in October 2011.
The health trust terminated Mr Bryant's employment at Bodmin Hospital after an internal inquiry and he was made the subject of an interim suspension order by the NMC last year.
NMC panel chair Christine Castledine said there was no doubt Mr Bryant's actions amounted to misconduct.
"You had ample opportunity to avoid commencing a relationship with Client A following her discharge from the ward and to put an end to it as it developed firstly into a friendship and then into a romantic and sexual relationship," she said.
Ms Castledine said Mr Bryant's actions were "all the more serious" because of the professional knowledge and the privileged information he had about her history.