Hayle's South Quay £30m regeneration begins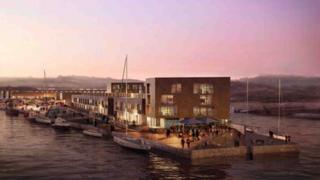 The regeneration of a derelict Cornish quay will begin later.
The £30m development of South Quay in Hayle will see the construction of a supermarket, 30 homes, a restaurant and a retail unit.
The project includes £8.5m which will be spent on building a new pedestrian bridge, raising flood defences and creating new promenades before the commercial development begins.
The owner, ING Real Estate, said the quay has been derelict since the 1970s.
A company spokesman said he expected the first business, which would be a supermarket, to open by the end of 2014.
Historically, the plans have been criticised because the development will be based in a prominent part of a World Heritage Site.
English Heritage has been opposed to the plans; as has Icomos, which advises Unesco on World Heritage sites.
The area was granted World Heritage status in 2006 because of its mining and industrial history.