Heart patient 'may have died after delays'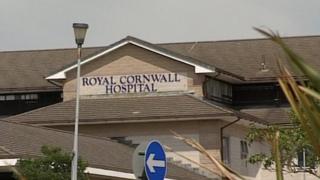 A heart patient may have died as a result of delays in treatment at a cardiology department, the Royal Cornwall Hospitals Trust (RCHT) says.
The trust was commenting after a review described the department's organisation as "somewhat dysfunctional". However, its overall care was described as safe.
RCHT director Andy Virr said the trust was investigating if any delays caused the death.
The trust added it was working on improving its systems.
'Quality commitment'
An external review into the cardiology department said it was concerned at a number of factors, including a "highly complex, unpredictable rota" that had held up the admission of patients
It also criticised relationships between managers and staff.
However, the review added that cardiology treatment was now safe.
Dr Virr, the director of medicine, said managers were "concerned" that one patient's death "was caused by the delay".
He said: "That's why we've highlighted it and are investigating it."
The trust said all heart patients on its waiting lists had been seen, that it was working on improving its systems and the review's findings would be "implemented in full".
It said: "No-one should doubt our combined commitment to quality, probity and clinical partnership to provide the very best care."