Romantic novelist Ida Pollock dies, aged 105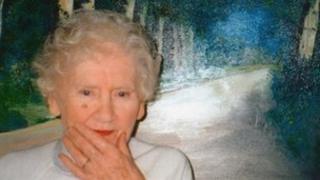 Ida Pollock, a prolific writer of romantic fiction, has died, aged 105.
The writer, from Lanreath in Cornwall, had more than 120 books published, many of them by Mills & Boon.
The Romantic Novelists' Association, which was co-founded by Ms Pollock, and which awarded her the title of honorary vice-president, confirmed her death.
The last books of Mrs Pollock, who wrote under a number of different pseudonyms, were still expected, it added.
'Instinctive part'
Mrs Pollock was born in Lewisham, south-east London in 1908, and began writing short stories after inheriting a love of reading from her mother.
Her first novel Coloured Palanquins and Coloured Lanterns was published in the mid 1930s under the name Joan Allen.
A prolific author, she worked under names including Anita Charles, Averil Ives and Marguerite Bell.
At one time, she released 40 books in five years, saying publishers were keen for her novels to have plots involving "a rather hard-up young woman and a rich overlord".
Previously speaking to BBC Radio Cornwall, she said she got started by writing short stories after her mother bought her a typewriter.
She said: "Writing was the thing I loved, long before I had any romance. It was an instinctive part of life."
Association vice president Sue Moorcroft said the organisation was "very sorry to hear of her passing".
She added she believed there were two more novels "awaiting publication".
She said: "We were all really thrilled that she was still writing at 105, and we're proud of her output."