Flood training given to Cornwall's beach lifesavers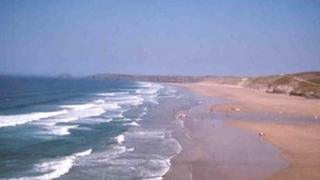 Surf lifesavers in Cornwall are to be trained for a frontline role helping emergency services in flooded areas anywhere in the UK.
Organisers estimate it will take about three years for all the volunteers to receive flood rescue training.
Once qualified, the beach lifeguards will be on standby to travel anywhere in the country suffering from flooding.
The process will begin with 20 lifesavers, who will take an inland waters safety course at the weekend.
Nigel Bowden, the chairman of the Cornwall surf life saving group, said the lifesavers already had training in "first aid and rescue techniques" but that the "next step for us is to move into flood rescue situations".
He said that although the volunteers knew how to act during beach rescues, flooded areas were "a different matter".
The training exercises will ensure the volunteers are able to cope with the speed of rushing flood water and teach them how to deal with terrain unknown to them.
Cornwall has suffered from flooding in recent years - in November 2010, about 50 properties were affected in Lostwithiel, while in August 2004, flash floods swept through the village of Boscastle, leading to almost 100 people being airlifted to safety.
The initial round of training will be paid for by South West Water.
The company's Chris Mills said the previous floods "taught us [that] were there were people who wanted to help others, but they got themselves into danger by trying to rescue them in the wrong way.
"This training is about how to carry out a rescue without endangering yourself."