Abbeyfield Cresta House residents' 200% council tax rise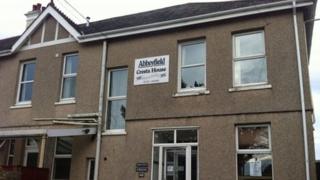 A "random and unfair" council tax reassessment has left sheltered home residents facing a rise of nearly 200%.
The reassessment by the government's Valuation Office Agency (VOA) means residents at Cresta House in Saltash will see their council tax bills rise from £271 to £771 a year.
The sheltered home is run by the Abbeyfield Saltash Society.
The VOA said discussions were "ongoing", although it could not comment on individual cases.
Abbeyfield, which is affiliated to the national Abbeyfield Society, said the near three-fold increase was due to a "cruel re-interpretation" of council tax legislation.
"It's complicated, but basically ever since council tax was introduced in 1993 our residents have been assessed on the fact that they live in one big family house," said Eric Distin, the charity's Saltash chairman.
"Now VOA say that each of their bedrooms is an independent living unit and must each pay band A council tax.
"Some residents may have kettles and keep biscuits in their rooms, but that hardly makes them self-sufficient.
"Twice a day they come together in the dining room for meals prepared by our staff or volunteers and they enjoy sharing a lounge where they watch TV and socialise.
"In short, they live just like many families up and down the UK and have done so for years."
'Random interpretation'
Mr Distin said as a charity, Abbeyfield charged less that the market rent and relied on voluntary support.
"We can't afford to absorb this cost and are desperately worried about our residents having to shoulder this financial burden," he added.
The VOA, which is part of HM Revenue and Customs, was asked to reassess Cresta House last year after the former live-in housekeeper moved out of her self-contained flat and it was turned into two more bedrooms for residents.
Abbeyfield, which has about 500 homes throughout the UK, said this type of reassessment had been applied to "only a handful" of its homes.
"It's not something that is being applied uniformly because of a change of rules," said Shona Duncan, of Abbeyfield.
'Accurate records'
She said: "Our argument is that nothing has changed since the council tax legislation was brought in 1993 - it just appears to be the VOA randomly applying their interpretation of the rules. It's totally unfair and it flies in the face of common sense."
In a statement to BBC News, the VOA said it was responsible for keeping council tax bands up to date and accurate.
"Where a taxpayer believes their band is wrong they should explain why to the VOA and, if it is wrong, we will change it," the statement said.
"We cannot comment on the details of individual cases; however, discussions between the VOA and representatives of this customer are ongoing."