Cornwall's NHS 111 helpline to begin in February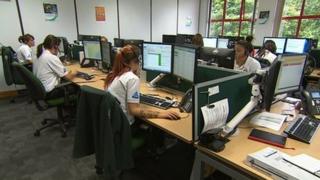 The NHS non-emergency 111 number will be launched in Cornwall in February by the South Western Ambulance Service.
The facility - which replaces NHS Direct - is for patients with urgent but not life-threatening symptoms.
NHS Direct, which was initially earmarked to run the helpline in Cornwall, said it was financially unsustainable and pulled out in June.
The ambulance service's NHS foundation trust already provides the facility in Devon, Dorset and Somerset.
Dr Andy Smith, medical director for the trust, said he was "delighted" it had been awarded the contract from the 4 February.
"South Western Ambulance Service has nearly nine months of running the NHS 111 service in Dorset and we will be bringing that experience and expertise to the service in Cornwall and the Isles of Scilly, along with all the local knowledge that comes from managing our successful ambulance service in the region," he said.
NHS 111 was originally expected to start in Cornwall in May, but it was delayed after concerns were raised about the quality of the service.
The delay was in order to "learn from the issues in other parts of the country", managers said.
The service is being run by a variety of organisations, including private firms and ambulance trusts.
Across the border in Devon, the launch of NHS 111 which was due to start in April, then June, was finally launched in September.