New night shelters for Cornwall's homeless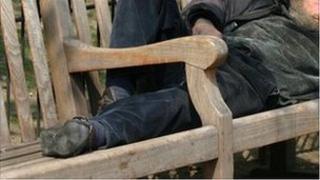 New night shelters for the homeless will open in Cornwall in a bid to get more people off the streets.
The shelters, which will be run by volunteers, will open in Newquay and Camborne later.
Clients have been assigned to the shelters by the homeless charity the St Petroc's Society, which is behind the project.
In November, the charity said there were estimated to be about 50 people sleeping rough each night in Cornwall.
The Centenary Chapel in Camborne will provide shelter and food for up to 10 people in Camborne.
The Reverend Mike Firbank from Camborne said: "We're going to get what they call low risk clients coming to us.
"They will receive something hot to eat, then to bed. They will go down to the breakfast club in the morning."
The United Reform Church in Newquay is to also offer 10 beds.
St Petroc's Society was formed in 1986 offering support to homeless people in Cornwall.