Five Cornish towns trial reduced parking charges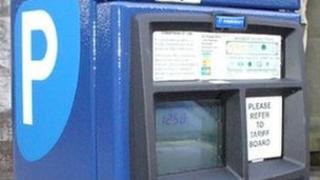 Charges are to be reduced in some car parks in Cornwall.
The move follows requests from local councillors in five towns in an attempt to boost local trade.
Prices will be reduced at council-run car parks in Bude, Launceston, Liskeard, Penzance and St Ives - in most cases for three months.
Cornwall Council said it would assess the impact at the end of the trial period to see if it was "financially viable" to continue with lower tariffs.
The majority of the car parks in the trial currently charge £5 to park all day, although some are slightly cheaper.
"Car parks are a vital part of the trading infrastructure of our towns," transport spokesman Councillor Bert Biscoe said.
"Christmas and New Year are very important festivals, and also peak trading times - therefore the council's parking service is doing this experiment to see if we can help boost events and trade."
The council's parking policy group leader, Kate Dixon, said a number of other trials to support local trade and workers in quiet times were "in the pipeline".