Cornwall care cuts spark legal action warning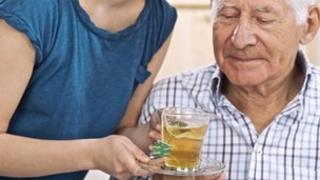 Disability rights campaigners have warned Cornwall Council to prepare for legal action over charging thousands of people for their care.
Disability Cornwall said legal challenges were possible due to "flaws" in the council's consultation.
About 2,000 disabled and elderly people could be charged for their care if they are above an income threshold.
Cornwall Council said the proposals had been "subject to extensive public consultation".
The changes approved on Wednesday include scrapping a £250 ceiling on people's weekly care contributions.
'Potentially dangerous' cuts
Other approved measures include charging people for day care if they are above the means test level, with an estimated annual extra income for the authority of £300,000.
It also expects to save £300,000 by removing free transport from those above the means test level.
The council estimates about 2,000 more people whose means are above a set level could be affected.
Vaughan Temby of Disability Cornwall said: "The short-term gain of these cuts, set against the medium and long-term risks for people who will find themselves increasingly unable to maintain a semblance of dignity and independence is, in our view, not only short-sighted, but potentially dangerous.
"Legal challenges to the proposed cuts are possible due to flaws in the way Cornwall Council consulted on these proposals."
The council said in a statement: "Both sets of proposals have been subject to extensive public consultation over the past few months.
"During the formal consultation, which took place between 12 August and 10 November, consultation packs were sent to more that 5,000 people who use services and carers.
"There were also 12 public information events held across Cornwall."
The measures are part of the Liberal Democrat-Independent coalition unitary authority's plan to slash £12m from adult health care and are due to come into force next year.