Cornish company builds 'unique' polar trike for South Pole bid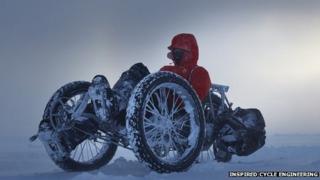 A tricycle designed for a record-breaking attempt to cycle to the South Pole has been built by a Cornish firm.
Inspired Cycle Engineering (ICE) built the trike for extreme sports adventurer Maria Lijerstam.
Ms Lijerstam, who lives in from Wales, is hoping to become the first person to cycle to the South Pole.
The challenge has been attempted before by riders on standard winter bikes, but an ICE spokesman said the trike would be more stable and aerodynamic.
Racing over 400 miles (644km) from the edge of the Antarctic continent Ms Lijerstam, 35, hopes to beat two other contenders and claim the world record.
She will face temperatures as low as -35 degrees (-31F) and wind speeds up to 50 miles per hour (80km).
She will have to overcome dangerous obstacles such as crevasses, shifting ice shelves, glaciers and snowstorms.
Ms Lijerstam, who lives in Bonvilston in the Vale of Glamorgan, said: "The trike is amazing. It's completely stable, even in extreme winds and I can take on long steep hills that I'd never be able to climb on a bike."
The frame is made from an aircraft grade steel selected for its strength and fatigue resistance. It is also fitted with 4.5 inch-wide snow tyres for traction.
Chris Parker, the director of ICE and designer of the trike, said: "This is a beast of a trike.
"It's very special and there's nothing else like it in the world."
Her training has included training and equipment testing in Siberia, Norway and Iceland.
To replicate the severe cold of Antarctica she has endured a day cycling in an industrial freezer.
Ms Lijerstam who will begin her attempt around 18 December, hopes to reach the pole in early January.