Cornwall hospitals support work could go private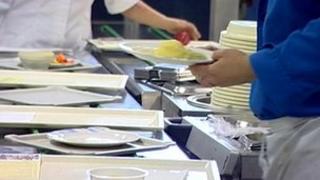 Cleaners, caterers and porters at Cornwall's three main hospitals have been told their work could be put out to private tender.
The Royal Cornwall Hospitals Trust (RCHT), which is trying to save £50m from its £309m budget, said the change was about trying to achieve "good value for money for the taxpayer".
About 400 support workers will be affected by the changes.
Unions said managers should have let staff "be part of the solution".
Investment hope
A report in January suggested a number of cost-saving measures, including a cut of 772 in the trust's workforce to 3,907.
Lezli Boswell, chief executive at RCHT, said the support service would be put out to tender "to consider alternative service options".
She said: "Our priorities in making a final decision will be to ensure ongoing improvements for our patients, securing additional investment and achieving good value for money for the taxpayer.
"We will continue to communicate openly with our staff and support them throughout any potential changes."
Sarah Woodward, of union Unison, said: "The board has said that there is no question about the excellent service they provide.
"So the question is, why are they doing this?
"Why are they not continuing to invest in us and why are they not letting us be part of the solution and save the money. Where is the loyalty?"