Search after derelict Launceston chapel collapses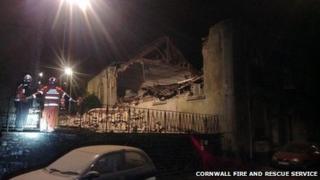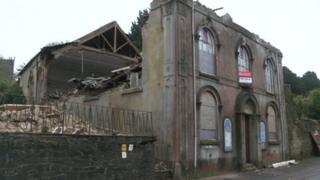 Rescue teams have searched debris after a derelict chapel collapsed.
Castle Street in Launceston, Cornwall, was cordoned off after emergency services were called to the town centre building at 00:30 GMT on Thursday.
Search dogs and thermal imaging cameras were used to see if anyone had been trapped in the debris but no-one was found, Cornwall Fire Service said.
Fire crews said the area would remain closed for "some considerable time". Police were also called to the scene.
The roof collapse pushed out the walls of the building, resulting in rubble falling into the street, fire officers said.
The search was carried out because it was feared rough sleepers could have been trapped.
Incident commander Martin Wingrove, of Cornwall Fire and Rescue Service, said there was "quite a lot of damage" and a "large amount of rubble".
'Carnage' concern
"I was quite concerned that someone had broken in and was living there," he said. "We went into full-blown rescue mode, just in case."
He added he was "not sure what the stability was" of the 40m by 20m (130ft by 65ft) building before the collapse.
Nearby resident Keith Lewis, who alerted police, told BBC Cornwall: "I heard this terrible rumbling, and, as I looked out of the window, I saw white dust and rocks on the floor."
Mr Lewis, who said the building had been empty for at least the three years he had lived nearby, added he was "surprised it hasn't happened before".
"I felt rumblings on Sunday," he said. "I thought it was kids playing with fireworks. It does echo up this road.
"I am just pleased it happened in the middle of the night when there were no school kids about as that could have been carnage."
Officers from Cornwall Council's building control services are inspecting the chapel, which had been up for sale, the fire service said.