Carlyon Bay developers must remove defences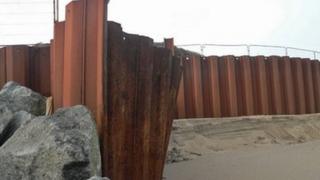 The developers of a £250m beach resort have been ordered to remove rusting sea defences.
The Commercial Estates Group (CEG) wanted to keep the 80m (262ft) defences at Carlyon Bay in Cornwall until 2016.
CEG said that it was struggling to finance the development and needed to keep the defences, which have been in place for nine years.
But a Cornwall Council committee refused amid claims the defences were an "eyesore".
Carlyon Bay, near St Austell, was once the site of the Cornwall Coliseum entertainment venue.
Current owners CEG have permission to build 511 apartments, shops and leisure services on the site.
But permission has expired for "temporary" sea defences - a stretch of metal pilings and rocks - to protect the building site.
Opponents 'delighted'
CEG said it was "disappointed" after the Central Sub Area Planning Committee requested a report on an enforcement timetable to remove the defences.
CEG said it was considering "all options before making any decisions about the timing of its removal".
"The recession has impacted heavily on businesses nationwide," it said.
"Development projects around the country including other major Cornish projects have been similarly adversely affected and we are asking for a little flexibility during this difficult period until the economy picks up and development finance becomes more accessible."
Peter Browning of Carlyon Bay Watch (CBW) said: "CBW is delighted that councillors have acknowledged the views of hundreds of local people and visitors alike that 'enough is enough'.
"If CEG can't begin their development then they should remove the eyesore they've created on the foreshore and let people enjoy the beach again."