Cornwall Council approves £43m budget cuts plan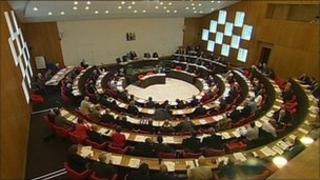 Frontline services including those supporting vulnerable young people are set to be cut as Cornwall Councillors approved £43m of savings.
Council leader, Independent John Pollard, told members that they faced "stark facts" in next year's budget.
Opposition Conservative leader Fiona Ferguson said that "we don't accept the budget is fit for purpose".
The budget for 2014/15 was approved during the full council meeting by 77 votes to 33.
Library hours
The plans include about £12m cuts from adult care and health, and more than £2m from support for vulnerable young people.
Library hours are set to be slashed, as well as £1m cut from road maintenance.
Hundreds of jobs are also under threat.
Stuart Roden, from Unison, said: "We've already seen significant reductions in staffing numbers.
"The staff who are left behind are having to absorb huge amounts of work and the service just can't continue like this."
Mr Pollard said: "What we're trying to ensure is those services are provided in the most efficient manner.
"Then we can save some money by being as efficient as we can be, rather than reducing the service too far."