Cat attacks making villagers' lives a 'misery'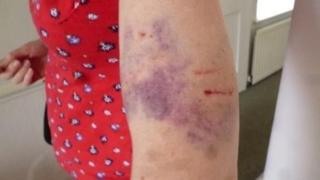 A group of villagers have said their lives have been made a "misery" by a tom cat that has attacked humans and animals over the past two years.
They said the cat, known as Shiny, had repeatedly attacked local pets and even sunk his teeth and claws into humans.
One resident of Little Treviscoe, Cornwall, required antibiotics after being attacked in June.
But Shiny's owners said the cat had recently been neutered and was "completely safe".
The group of residents said police and RSPCA had been contacted about the incidents, which included the cat "launching" himself at them, attaching himself to their arms, legs and hands and scratching their doors.
The police and RSPCA are yet to comment.
Carol Ballsdon says Shiny "went for me" over the weekend, several months after it had attacked her 90-year-old mother in the village.
"She had a large skin tear down the arm, which we had to dress every day for about three weeks, and two big puncture wounds on the back of her leg," Ms Ballsdon said.
"It is just four sets of claws and a set of teeth coming at you."
'Changed character'
Paula Burton said she had to have antibiotics after the cat scratched her.
"The policeman has been out a few times, but there is nothing he can do legally, and the cat is still at large and carrying on much as before," she said.
Julia Terry said her cats had been attacked three times and she had to take extreme measures to defend herself.
"Twice when I've gone out to get my cat, it has then attacked me," she said.
"It launched off the fence, it attached onto my arm, so I was out the front, waving my arm around.
"I had to throw hot tea over it, it was the only way other than bashing it against the wall to get it off my arm."
Shiny's owners declined to be interviewed but told BBC Radio Cornwall that despite visits from the police and RSPCA officers no charges had been laid and no enforcement action had been taken.
They said since being neutered three months ago, Shiny had been a changed character, who was "completely safe" around their youngest child.
Ruth Geech, who lives next door, said: "We personally don't have a problem with him, we've never had a problem with him."