Isles of Scilly airport under 'special attention'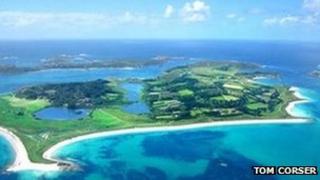 The airport of the Isles of Scilly is undergo a special inspection because of concerns over its management, the UK's air regulator says.
The Civil Aviation Authority (CAA) confirmed St Mary's Airport was under "special attention".
However, it added there were no plans to remove its operating licence.
The airport's owner, the Council for the Isles of Scilly, said it was confident it could address any concerns raised by the CAA.
The regulator said it had concerns about management re-organisation at the airport where at least two senior posts were empty.
In a statement, the CAA said such a planned inspection "can be due to a number of reasons, such as significant operational changes taking place or in order to achieve a satisfactory standard of regulatory compliance".
The council said St Mary's Airport was "managing a £6m redevelopment project at the airport and is also going through an internal restructure".
It said: "The CAA have raised concerns regarding our ongoing management arrangements through this process.
"We have recognised their concerns and immediately suggested that we should meet in order that we could agree a mutually acceptable way forward."
The council went on to say it had "a number of options that we will present to the CAA and we are optimistic that a very positive outcome can be achieved".
The CAA is due to have further discussions with the council later in the week.