Cows fall through roof into Lamorna artist's workshop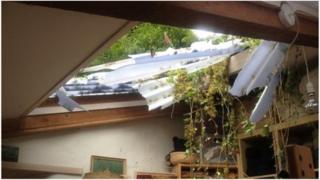 An artist "miraculously" avoided injury when two cows dropped through the roof of her workshop.
The cows fell through a skylight after breaking through fencing in a field that overlooks the building in Lamorna, Cornwall.
Sue Marshall, 77, was vacuuming in an adjoining kitchen when the cows landed next to a loom where she works.
Both cows, which were unharmed, are thought to have been searching for food on the boundary of the field.
'Skidding about'
Mrs Marshall said: "I heard a terrific crash. I ran outside thinking a tree had come down.
"Then I noticed a hole in the roof and a cow looking at me through the door.
"It was skidding about on wool and a broken table and skylight."
After herding the cow out of the workshop, the second cow came through, smashing the loom bench where she sits to weave.
"Each one miraculously missed my loom," she said.
She looked up at the fence and saw the rest of the herd looking on.
"I was worried the rest of the cows could come through too," she said.
But a neighbour came to her aid and made sure no more came through the fence.
Most of her artwork was saved because it had been sold at an open day.
No injuries
"Goodness knows what would have happened if I had been sitting at the bench," she said.
"I dealt with it quite calmly at the time, but afterwards got quite depressed because of what could have happened."
The farmer who owns the cattle reinforced the fencing outside Mrs Marshall's home the following day.
Talking about the incident in June, Alan Goddard of insurers Cornish Mutual, said: "This very unusual case really does highlight the importance of keeping boundary fences in good condition.
"Fortunately, no one was physically harmed and neither of the cows suffered any injuries.
"Livestock owners are potentially liable through common law and statute for accidents caused by animals straying, so land or animal owners should ensure that all fences are kept in reasonable order at all times."