Crown Currency Exchange directors on trial in 2015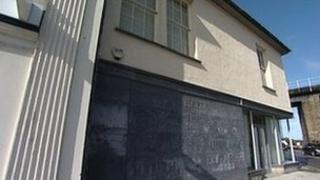 Seven people arrested after the collapse of a Cornish currency exchange company, which had debts of £20m, are to go on trial in 2015.
Crown Currency, based in Hayle, went into administration in October 2010.
Former directors Peter Benstead, 70, from Penzance, and Edward James, 73, a former Glastonbury mayor, are to face fraud charges at Southwark Crown Court.
Five other people are to face fraud, deception and accounting offences. No pleas have been entered.
Advance orders
Before its collapse, Crown Currency was one of the country's largest personal currency exchange businesses.
Established in 2004, it allowed individuals and business customers to pre-order foreign exchange at a set price, up to a year in advance.
It provided money in 80 currencies, as well as travellers' cheques and money transfers, sometimes for people to buy property.
About 13,000 people are believed to have lost money when it went into administration with debts of £20m and assets of just £3m.
Customers were owed amounts ranging from £100 to £100,000.
As well as fraudulent trading and false accounting, Mr Benstead is also accused of syphoning off more than £1m from Crown Currency and parent company Crown Holdings.
His children - Julian Benstead, 44, Katey Calvimonte, 35, and Victoria O'Brien, 37 - were arrested following a probe by Devon and Cornwall Police into the company's collapse.
Peter Benstead and Ms Calvimonte are also charged with obtaining a money transfer by deception concerning a bogus mortgage application.
Crown Exchange and Crown Holdings company secretary Stephen Matthews, 50; and Peter Benstead's son-in-law, senior manager Roderick Schmidt, 44, are also charged with fraudulent trading and false accounting.
Ms O'Brien is charged with perverting the course of justice.
At Southwark Crown Court, when Mr James appeared alone at a 15-minute preliminary hearing, Judge Alistair McCreath ordered all the defendants appear on 3 March 2014 for a plea and case management hearing.
The trial is due to start on 16 January 2015 and is expected to last two months.