Flambards tourist attraction lays off 19 staff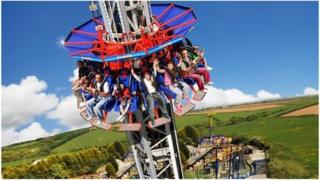 One of Cornwall's best known tourist attractions has laid off 19 employees.
Flambards, which employs about 170 people in the summer, has been for sale since May.
In addition to the redundancies, nine employees are now working shorter hours and 17 are working flexible hours.
Staff were told in a letter that the sale was "taking longer than hoped" and "regrettably" it was laying off almost all the attraction's winter staff.
One member of staff said many employees felt that they had been treated unfairly.
Flambards in Helston has been run by the Kingsford-Hale family since it opened in 1976.
'Not treated fairly'
Originally called the Cornwall Aero Park, the attraction grew into 27 acres of rides, museums and all-weather facilities.
It was put on the market in May by the owners who said, in a letter to staff at a meeting on Monday afternoon, that they hoped to complete the sale next month.
The letter said: "It is no secret that the process of the sale is taking longer than hoped, but it is progressing.
"We continue to work hard towards the desired outcome of selling the attraction as a going concern and, importantly, ensuring all staff ultimately retain full employment.
"We are hopeful the sale will be completed in December.
"Until then we deeply regret it is necessary to lay off a number of our loyal staff and reduce the hours of others as the sale process continues."
The sale leaves the attraction running on a skeleton staff of about five or six people according to one employee who did not want be named.
"There's been a lot of feeling that something like this was going to happen," he said.
"To suddenly, at 16:15GMT on a Monday, call you in and say we don't want you in tomorrow.
"A few people got up and walked out.
"I don't feel we have been treated fairly because every time we have asked them about it we have come up against a brick wall."
Managing director James Kingsford Hale said: "We are grateful to our staff and creditors for their understanding at this difficult time - especially with Christmas approaching - but remain confident that the sale will be brought to a successful conclusion."