Fish discard ban 'could harm smaller Cornish fishing vessels'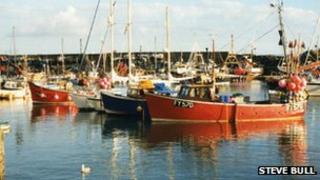 EU rules to end fish discards could penalise smaller fleets in Cornwall, it has been claimed.
Laws to end the throwing of unwanted fish overboard were agreed this year after a campaign led by celebrity chef Hugh Fearnley-Whittingstall.
The University of East Anglia said smaller fishing vessels were "at risk of having their fishing curtailed".
Cornish fish producers said the policy had not been thought through. Policy supporters said it would end waste.
'Sound bite' claim
The new rules will be gradually phased in for Newlyn from 2016.
Supporters said basing quotas on the amount caught rather than what was landed would end waste.
However, critics said it would hurt those fishing in areas with lots of different species.
Professor Alistair Grant, who supervised the university study, said: "Smaller fishermen don't have the technology or the range to be able to catch exactly what they want to catch.
"They tend to have relatively high discard rates so they will be the ones most at risk of having their fishing curtailed."
Paul Trebilcock, chief executive of the Cornish Fish Producers Organisation, said: "The discard ban was a sound bite from a celebrity chef which has led to a policy that has not been thought through.
"We don't yet know what the impact will be for sustainability and what will happen to fishing businesses in Cornwall. It's more questions than answers at this stage."
'Can be done'
Hugh Fearnley Whittingstall said in a statement that ending discards was much more than a sound bite, and that the rules had been reformed not just to end waste but to set quotas in line with scientific advice.
He added that although changes would require a lot of effort, there were already boats around the UK showing that by changing fishing gear and fishing in the right places it could be done.
Camborne and Redruth Conservative MP George Eustice, who is Parliamentary Under Secretary of State for farming, food and marine environment, said EU grants were available to help fishermen pay for new equipment.
He said: "There are funds in place to do new research to develop ever-better new net gear, but also to support fishermen in buying that gear."
South West Conservative MEP Julie Girling said beam trawlers based in Brixham in neighbouring Devon had "managed to reduce discards to negligible levels".