Retired Cornwall policeman: 'Jail me over dog's mess'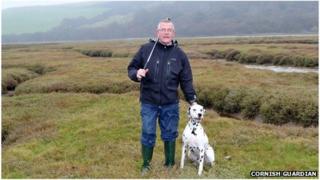 A retired policeman who claims he is being victimised by dog wardens has said he would rather go to prison than pay the latest fine.
Roger Hobkinson, 72, has been fined a total of nearly £1,700 over the past three years for mess left by his friend's dog, including £754 last week.
Mr Hobkinson, of Newquay in Cornwall, said he was a responsible dog walker and had "had enough".
Cornwall Council said it was "pleased with the high-level fine".
Mr Hobkinson, a National Trust volunteer, helps an ill friend by walking his Dalmatian Henry on the Gannel estuary in Newquay.
Wardens 'lying in wait'
And if Henry leaves a mess on the path, Mr Hobkinson says he clears it up.
But he draws a line at mess off the path and below the tide mark which he says "will be washed out twice a day".
His view has led to him being fined three times since 2010, including £754 by Truro magistrates last Friday.
Mr Hobkinson, a volunteer litter picker with the National Trust, has paid up in the past.
"I've had enough of them now," he said.
"There is no way I'm going to pay. I would go to prison."
He said dog wardens regularly lay in wait for him on the estuary, with binoculars in hand.
"I am being totally victimised," he said.
"They have got to use common sense and I am a responsible dog walker.
"I have cleaned up pets' poo on National Trust beaches, for goodness sake.
"I am an ex-copper and I have always obeyed the law, but the council are saying I am irresponsible."
Allan Hampshire, head of public health and protection at Cornwall Council, said: "I am pleased the magistrates have handed out such a high-level fine to this individual.
"The issue of dog fouling and irresponsible dog ownership is one that blights many residents of Cornwall.
"This fine sends a clear message to the small minority of irresponsible dog owners that if you don't clear up after you dog, the courts will fine you accordingly."
Mr Hobkinson, who did not attend Friday's hearing, was given 28 days to pay the full amount of £754.45.