National Trust's Cotehele creating 90ft flower garland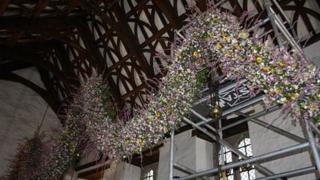 Gardeners at a stately home are creating a garland that is more than 90ft (27m) long, following a bumper year for flowers.
Garlands have been made at Cotehele, in south-east Cornwall, since the 1950s and are normally about 60ft (18m) long.
David Bouch, head gardener at the National Trust property, said that more than 40,000 flowers were collected compared to an average of 22,000.
He added that "brilliant growing season" had prompted the increase.
Mr Bouch said he believed the garland was the longest created at a National Trust property.
"Normally, loops go along the centre of the Great Hall, but because of the bumper crop an additional 33ft (10m) of garland will also frame the door," he said.
He added the same amount of plants had produced the additional flowers.
The garland will be completed by 22 November.