Archbishop Welby in Cornwall for a three-day visit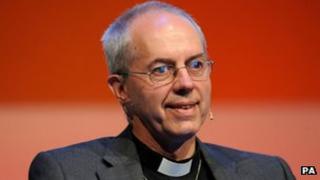 The Archbishop of Canterbury is visit churches and other organisations across Cornwall over the next three days.
The Most Reverend Justin Welby will hear how community groups and individuals are helping those in economic hardship.
Archbishop Welby will visit a food bank and pray with young Christian skater boarders during his visit.
He visited Cornwall in March when he described the support from people in the county as "overwhelming".
The 105th archbishop will be in north Cornwall later and will visit Launceston's food bank.
Economic challenges
In October, Archbishop Welby expressed his concern at the growth in the number of food banks, saying such numbers would have been "unthinkable" a decade ago.
The Church of England is currently investigating the number of food banks.
On his previous trip the archbishop said Cornwall faced "particular economic challenges" but he was "optimistic" for the future.
During his visit the archbishop will hold prayer "walkabouts" in Launceston and Penzance.
He will visit Penlee Lifeboat Station in Newlyn and will take a trip in a lifeboat.
The archbishop will also meet students at Penzance Sixth Form College for an open forum.