Truro sex shop Mrs Palm wins CCTV cameras battle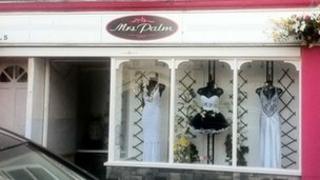 A sex shop has won its fight against installing CCTV cameras, landing a council with a legal bill of more than £2,000.
Truro magistrates upheld an appeal by the owners of Mrs Palm against the cameras which Cornwall Council wanted for "public safety".
Boss Nikki Hewett, 50, called the legal battle a "waste of public money".
Cornwall Council said it would be reviewing its policy on sex establishments next year.
The authority said in October last year that as a condition of Mrs Palm's sex establishment licence it would have to install four CCTV cameras "as a safeguard for the applicants as well as the public".
But magistrates upheld an appeal and awarded costs of £2,067 to owner Edward Reynolds.
'Nothing seedy'
The court case was the latest of a series of moves to restrict the operations of the shop which sells sex toys, DVDs, clothing and other sex paraphernalia.
When it opened in 2010 local residents and businesses raised concerns about its effect on the tone of Little Castle Street and its location next to a school uniform shop.
Christian campaigners have also protested outside the shop calling for it to be closed.
But the store has become a fixture in the town, twice being runner-up in the Truro In Bloom competition.
Miss Hewett said she was "delighted" at winning the court appeal.
She added: "The amount of time and money spent on this case could have been better spent on worthy causes."
She said the shop relied on its regular customers who appreciated privacy and discretion and would regard CCTV as an intrusion.
"Our customers are mature, serious shoppers," she said.
"It is quite offensive to them and ourselves to have cameras imposed on us."
The shop has also beaten moves in the past to impose blacked out windows.
Miss Hewitt said: "There is nothing seedy about the shop. You can buy the same magazines in newsagents, but we are the ones who get stigmatised."
Cornwall Council said in a statement that its sex establishment policy was due to be reviewed next year.