Bubble bursts as Camelford community launderette closes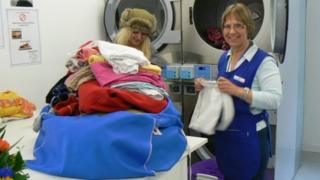 A community launderette in Cornwall has closed just six months after it opened with £80,000 in funding.
The project was created after members of a toddlers' group at St Thomas's Church in Camelford said they could not afford washing machines.
A sign on the door now says that it has "ceased to operate".
Sir Graham Watson, MEP for south-west England and Gibraltar, said he would be writing to some of those involved to see what lessons could be learned.
It was hoped the launderette, which launched in May, would also act as a meeting place for locals and businesses.
When the launderette opened, project developer Amanda Evans said many parents living in affordable housing did not have space for a washing machine or to dry their children's school clothes outside.
She said the nearest launderette was six miles away in Tintagel.
But Transformation Cornwall, a religious partnership that provided some of the set-up funds, said the business was not viable - especially over the hot, dry summer when demand for a launderette was small.
Mike Todd, lay chair of the Deanery of Trigg Minor and Bodmin, who is the voluntary administrator, said there was no overall management set in place at the launderette when it was opened.
He said that the plans to form a limited corporation, where people would be encouraged to pay into the hub to help sustain the business when it was fully established, never got off the ground.
Dr Todd said he had attended a meeting in October where it was decided the only solution was to close the launderette.
'Element of risk'
The project was awarded £53,000 from Transformation Cornwall, the East Cornwall Local Action Group and the Cornwall Development Company.
Dr Todd said it had also received £27,000 in grants from other organisations.
He said he had sent a report to those who had provided money for the project.
Sir Graham said: "I will be writing to the Department for Environment, Food and Rural Affairs (Defra), who help to support local action groups across the country, as well as the Cornwall Development Company to ask what steps are being taken to ensure this does not happen in future and that lessons can be learned.
"In any business, banking or government operation, there will always be an element of risk and therefore failure no matter how hard we try to minimise it."
He added that people should not forget European funding - which helps pay for local action groups - had been "instrumental" in helping Cornwall.
The BBC was told the money was spent on the initial costs, such as buying the washing machines, dryers, fixtures and fittings, rent payments, bills and also wages for staff.
'Huge sadness'
North Cornwall Liberal Democrat MP Dan Rogerson, who was at the opening, said: "The project was a very worthwhile idea, meeting a need for Camelford and the surrounding rural communities.
"It is a matter of huge sadness that it has fallen into financial difficulty and I hope something can be done to make use of the property."
Linda Emmet, from the East Cornwall Local Action Group, said in a statement: "We are investigating the situation.
"We are trying to find out what happened to the assets and what other options were considered."
The local action group receives funding from the European Union, the European Agricultural Fund for Rural Development (ERDF), DEFRA and the South West Regional Development Agency.
Transformation Cornwall is a partnership of the Church Urban Fund, the Diocese of Truro and Cornwall Methodist District.
Cornwall Development Company, which is the arms-length economic development arm of Cornwall Council, said it would not comment at this stage.