Troops from 17 nations to train at RAF St Mawgan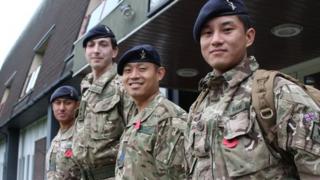 Troops from 17 nations have arrived in Cornwall for a training exercise.
About 2,000 members of the UK-led Allied Rapid Reaction Corps (ARRC) will be based at RAF St Mawgan.
The base will increase its personnel 10 times over in what it believes is "the largest land deployment into Cornwall" since World War Two.
ARRC personnel can be called up to support Nato missions anywhere in the world at just a few days' notice. The exercise will last for three months
The troops are from the UK, along with representatives from allied and Commonwealth countries, and will be involved in a variety of role-play scenarios reacting to mock incidents.
Last year the visiting numbers for the autumn exercise peaked at 1,400.
Wing Commander Philip Lamb, the station commander, said: "We're just far enough away to give them very valuable training in deployment and setting up a headquarters elsewhere."
Participating in the exercise will be units and troops from Denmark, Canada, Italy, the United States and Portugal, as well as personnel from Qatar, the United Arab Emirates, Australia, and New Zealand.
Flight Lieutenant Jeff Spencer, from RAF St Mawgan, said: "If we can support the ARRC, frankly we can support anyone, so this is a good opportunity to use the facilities we already have.
"We are going from 200 on the base, to 2,000. It's very important for our future."
Among those taking part are the 248 Gurkha Signal Squadron.
Staff Sergeant Jagatram Rai, who has been with the squadron for 13 years, said: "It is the first time I have been deployed here. The camp itself is nice.
"I have heard many things about this location. If we find spare time to go to the sea that would be great. We don't have any sea in Nepal.
"The locations are very different. But similarities are that people seem to have the same respect for each other."
Although the Gurkhas were unable to talk about the specifics of the ARRC exercise, they will be working on technical aspects including communication facilities.
Cpl Tejman Gurung said: "This is my second time in RAF St Mawgan. I was here about three years ago for another exercise then.
"I managed to walk along the coast from Newquay to Padstow the last time. The weather was very windy. It is a very different landscape.
"It is very lovely. I am hoping to have a holiday here with my family next year."