Follett Stock solicitor firm is shut down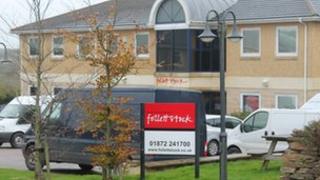 Cornwall-based law firm Follett Stock has been shut down with the loss of 30 jobs because it is unable to pay its debts.
The Solicitors Regulation Authority (SRA) has taken possession of all the company's documents and money.
The firm has offices in Truro, Exeter, Bristol and London, although the Exeter and Bristol offices closed recently.
The company issued a statement saying it made efforts to find a buyer for the business, "but ultimately failed".
The statement went on to say: "It is with great sadness that we can confirm that Follett Stock has now entered into liquidation.
"We must emphasise that there is no suggestion of dishonesty in the circumstances leading to the closure of the firm."
The company said "huge efforts have been made during the last few weeks to find a buyer for the business. These efforts came close to succeeding, but ultimately failed".
Ian Walker, a South West insolvency expert from Begbies Traynor, said: "You only have to do a search on the internet to see any number of legal practices that are falling into some form of insolvency, unfortunately."
Helen Herniman, director of client protection at the SRA, said: "In cases like these where the firm has become insolvent, we only intervene once all other options have been exhausted.
"We have had to intervene on this occasion as there was a clear risk to clients' interests caused by the firm's financial difficulties."