Patients miss operations and 40,000 outpatient appointments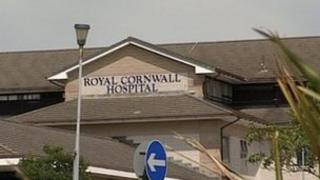 About 1,300 scheduled operations and 40,000 outpatient hospital appointments are missed every year at Cornwall's main hospitals trust, managers say.
The Royal Cornwall Hospitals Trust (RCHT) said the situation was costing it about £4m a year.
Children's ear, nose and throat outpatient appointments make up the largest proportion of no-shows.
A new text message reminder system has been set up to help patients keep appointments, the trust said.
'Don't want it'
As well as the missed appointments, nearly 4,000 inpatients had not turned up for operations over the past three years, managers confirmed.
Interim medical director Duncan Brown said he believed there were a "lot of reasons" for patients not arriving for appointments or procedures.
He said: "People genuinely forget, or get confused or they can't get there. Or they may have decided that they just don't want to do it."
Patients have to ask to join the text message system.
Mr Brown acknowledged not all patients would have mobile phones but said the texts were more cost-effective than calls to people's landlines.
He said: "We understand this [not attending appointments] can happen. But, if you let us know, we can use that appointment for somebody else."