Cornwall care home closure hits 14 residents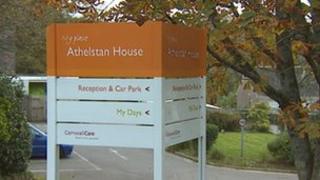 A residential care home in Cornwall is to close leaving 14 residents with a month to find alternative accommodation.
Cornwall Care said Athelstan House in Bodmin was unsustainable with so few residents in a 40-bedroom home.
Chief executive Douglas Webb said: "It's been an incredibly difficult decision to make."
Residents and relatives have four weeks to find alternative accommodation and were told at a meeting earlier.
'Absolutely distraught'
The son of one resident told BBC Radio Cornwall his mother had been "pretty comfortable" at Athelstan House.
"The residents there know each other, talk to each other, one resident was absolutely distraught.
"You're not going to find any care home in Cornwall that has 14 spaces available for all 14 residents.
"They'll be scattered across Cornwall."
Mr Webb said their priority was the health and wellbeing of those in care "and we believe this would be compromised as the number of people living at Athelstan continues to fall".
"The nature of care is changing and the decline in the need for residential homes is not a trend unique to this county.
"Increasingly people are living longer in their own homes with support services and when they do need care, they require specialist nursing for complex medical conditions like dementia."
He said the not-for-profit organisation planned to build more accommodation for independent supported living and specialist nursing care.
Cornwall Council said its staff would help the residents and their families to find alternative accommodation.
Cornwall Care said staff at Athelstan House would be able to apply for redeployment within the organisation or in other homes or services.