Cornwall's flood-prone areas worked on by ex-offenders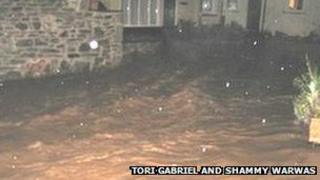 Former offenders are working to improve the flood defences in some of Cornwall's most at-risk towns.
The probation service, along with the Cornwall Community Flood forum, are removing several tonnes of leaves from drains on hills surrounding Lostwithiel, Par and St Blazey.
The project is being funded by the government as part of its national flood resilience programme.
Last December, 20 Lostwithiel properties were damaged in floods.
In November 2010, about 50 properties were affected as water ran down the steep sided hills and into the Rover Fowey at the bottom of the valley, in the middle of the town.
'Expensive issue'
Now, 16 ex-offenders have cleared leaves from the 22 drains that line Castle Hill, a steep hill that leads directly into Lostwithiel.
The scheme, co-ordinated by Climate Vision, has received funding from DEFRA.
Luci Isaacson, of Climate Vision, said: "We all know leaf litter in drains is a big issue but it's an expensive one. We went to Probation and said that County Highways would train these guys to do it safely."
Earlier this year, Cornwall Community Flood Forum and Cornwall Council received £238,000 from DEFRA's Flood Resilience scheme to fund such projects.
Martyn Alvey, the Community Flood Resilience Manager at Cornwall Council, said: "This is a fantastic opportunity to combine important work to reduce the risk of flooding in three vulnerable communities with very meaningful activity for offenders serving sentences within the community.